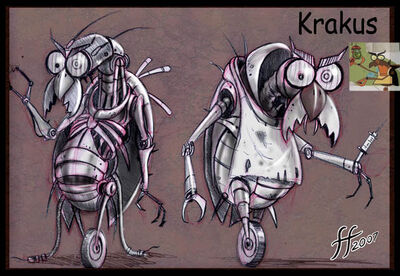 Krackus is a crackpot inventor of the Cluster and seen as a joke, even by his own race, as his creations are known for falling apart. His first appearance was in "Around the World in Eighty Pieces", though Jenny had obviously dealt with him before, as the dialogue suggests. In this episode, Krackus appears to be rather absent-minded, as he continues to forget Jenny's name. However, he actually manages to do something productive for the Cluster in this episode: cause Jenny to literally fall to pieces and scatter her pieces across the world; only her head and hands were rescued from the scattering by Brad, Tuck, and Sheldon. Krackus planned on hailing Vexus immediately to summon an invasion, but his communicator fell apart as he tried to call her. Jenny managed to gather up all her pieces before Krackus fixed his communicator except a critical part that held her together, but she and her friends manage to fool Vexus and Krackus with some clever thinking, and the queen angrily pulled the inventor back to Cluster Prime before either could become the wiser. Krackus was onboard Smytus' ship when he detonated in "Escape from Cluster Prime", but he too survived, somehow. He appeared again in "Trash Talk", where he took part in Vexus and Smytus' scheme to drain Jenny's energy.
Ad blocker interference detected!
Wikia is a free-to-use site that makes money from advertising. We have a modified experience for viewers using ad blockers

Wikia is not accessible if you've made further modifications. Remove the custom ad blocker rule(s) and the page will load as expected.